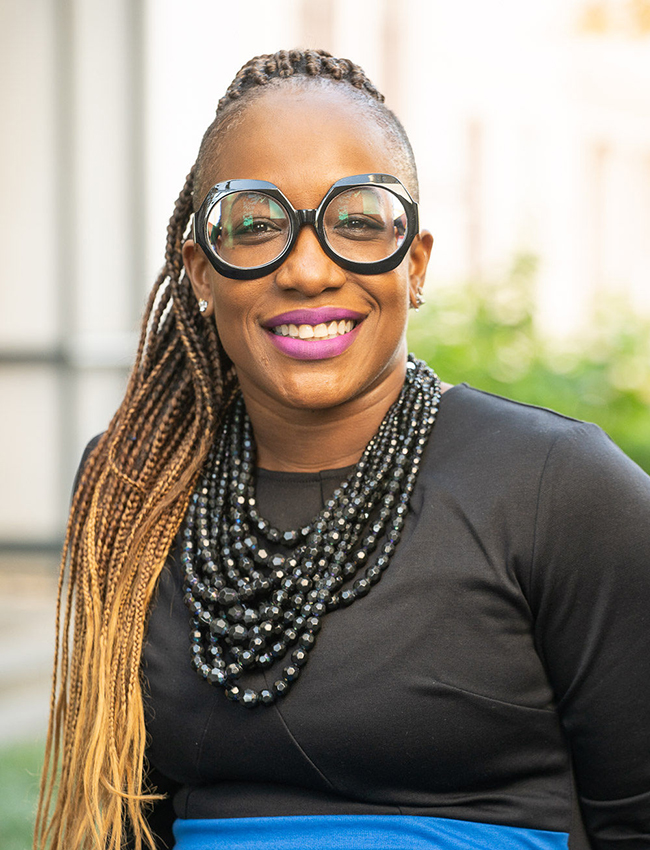 Director
Heather N. Pinckney
As the director of PDS, Heather N. Pinckney provides defense and related legal and non-legal services to people charged with crimes in the local District of Columbia courts who cannot afford to hire an attorney.
Heather is an experienced litigator specializing in criminal defense, civil litigation, family law, wrongful death, and civil rights cases. On June 21, 2022, the PDS Board of Trustees appointed her as the next Director of PDS.
Prior to returning to PDS, she served as a managing partner at the law firm of Harden & Pinckney and as the executive director of the Black Public Defender Association. She also currently serves as an adjunct professor at The George Washington University Law School, where she teaches a seminar entitled "The Role of the Public Defender."

Heather is currently a board member of Rising for Justice and JusticeAid. She has also served as the co-chair of the D.C. Bar Criminal Law and Individual Rights Section Steering Committee and chair of the PDS Board of Trustees.

Before entering private practice, Heather served as the deputy chief of the Trial Division for PDS – widely recognized as the premier public defender office in the country. As deputy trial chief, Heather assisted in the management and day-to-day operations of the trial division and supervised attorneys litigating criminal cases in the D.C. Superior Court. Prior to becoming deputy trial chief, Heather served as a staff attorney at PDS, for eight years, representing juvenile and adult indigent clients on criminal matters ranging from misdemeanors to homicides. She was also tasked with hiring the best and brightest attorneys at PDS and served as the Chair of the PDS Hiring Committee.

Heather teaches litigation skills at programs all around the country including Colorado, Connecticut, Missouri, Maryland, New Jersey, New York, and Wisconsin. She has also served as a guest lecturer at Harvard Law School's Trial Advocacy Workshop, Howard University School of Law, NYU School of Law, American University School of Law, and David A. Clarke School of Law (UDC). Heather also serves as a faculty member for Gideon's Promise, the National Association of Criminal Defense Lawyers, and the National Criminal Defense College.

Heather is a native Washingtonian and received her Juris Doctorate from George Washington University Law School. She is admitted to practice before the District of Columbia Superior Court and the United States District Court for the District of Columbia.

Positions at PDS:
Director (2022 - Present)
Deputy Chief, Trial Division (2007 - 2008)
Staff Attorney, Trial Division (2000 - 2007)



Awards and Acknowledgments:
2014 Distinguished Alumnus Award from D.C. Law Students in Court
Fellow in The American College of Trial Lawyers and a recipient of the Washington Bar Association Educational Foundation Award for Women
Named one of Washington D.C.'s Best Lawyers in Criminal Defense by Washingtonian Magazine
Member of the National Black Lawyers Top 100